Welcome to Week #4 of
HipSwap
Sidetracked Mom's Blog
"Win This Bag" is a 6-week event that will feature 6 weekly giveaways.There will be one designer handbag given away every week!Each bag will be an authentic, recognizable designer brand such as Gucci, Louis Vuitton, Coach, or Fendi.Our 6th week will feature a highly coveted designer handbag and you will have the option to claim bonus entries for each of the 5 weekly "Win This Bag" giveaways you entered leading up to this grand finale!So, enter each weekly giveaway to increase your odds of winning!
Here's what really separates this event from any other handbag giveaway you may have seen before… some of these handbags will come to you directly from a celebrity's closet!That's right –
Thanks to HipSwap, you have the opportunity to win the exact bag that may have been on the arm of a famous celebrity! I know I personally would love to own a bag that had been used by one of my favorite celebrities. Who wouldn't?
HipSwap is a mobile and web marketplace that connects buyers and sellers locally and nationally. It enables people to discover what's inside the most fabulous closets, homes, and shops in neighborhoods and cities across America. HipSwap currently offers delivery service in Los Angeles and New York with its iconic pink delivery van.
Now, on to this week's Giveaway!
This week, you have the chance to win an authentic Gucci bag!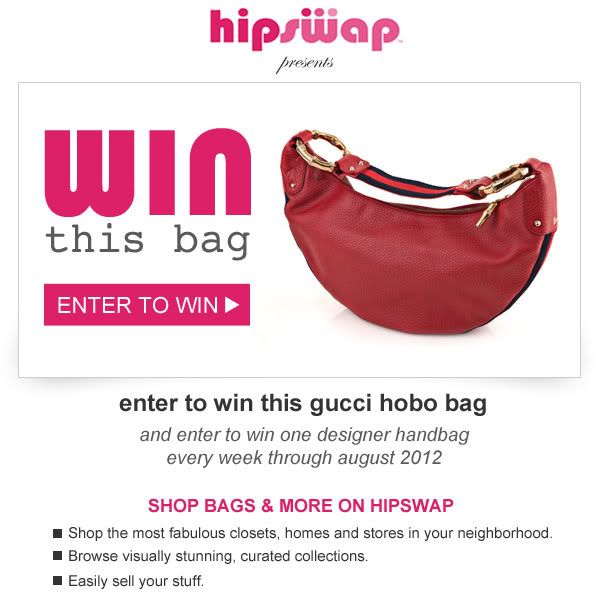 This red-pebbled leather Gucci hobo bag is amazing for any occasion. It Features a navy cotton stripe in front and large gold ring hardware at strap ends.
Dimensions: 15" x 9" x 1" with 10" strap.
Estimated Retail Price: $1500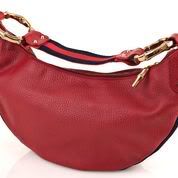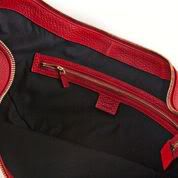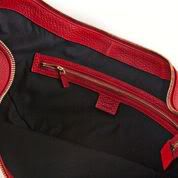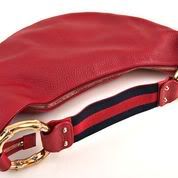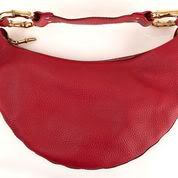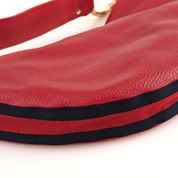 The DoubleTake Consignment Boutique first opened its doors in Short Hills New Jersey in1992 and from day one the store has been packed with women who understand the advantages and value of consignment shopping. DoubleTake, which only accepts the highest quality & current designer clothing and accessories, has been recognized as a unique clothing boutique where huge savings can be realized.
1.
Create a HipSwap account

.You will be asked to enter your name, email and zip code.
If you do not live in the United States, please enter your City and Country in the Zip Code field.
2.
Once registered, you can earn additional entries by:
a.
Pinning your favorite HipSwap bag on Pinterest
b.
"Liking" HipSwap on Facebook
c.
Following @HipSwap on Twitter
d.
Tweet with the hashtag #winthisbag for daily bonus entries
e.
Following the blogs who are bringing you this awesome giveaway
There is only one mandatory entry option and that is to create a free HipSwap account. However, by entering on this blog through the Giveaway Tools widget below, you have the opportunity to gain a large number of bonus entries!
You can complete as many or as few bonus entries as you'd like but remember, the more you do, the better your odds of winning! Plus, once you are following all of your hosts, entering each subsequent weekly Win This Bag Giveaway will be even faster & easier! And, don't forget – we'll be offering even more bonus points for each of these giveaways you entered during our final week of this event!
Giveaway begins on 7/17/12 at 12:01am EST & ends on 7/23/12 at 11:59pm EST.
The Giveaway Tools Widget will load below this line. For those of you not familiar with Giveaway Tools, it is VERY similar to Rafflecopter but has been said to be a faster & easier way to enter giveaways. Let me know what you think! As always, thank you for visiting my blog and entering our giveaways! Good luck to you!
Javascript must be enabled to enter this giveaway. Learn how to activate Javascript by
clicking here.

Loading Entry-Form